Course details
【Popular No. 1!】 Betty Roca Farmers' Course <90 minutes drink all you can eat> 10 items 4500 yen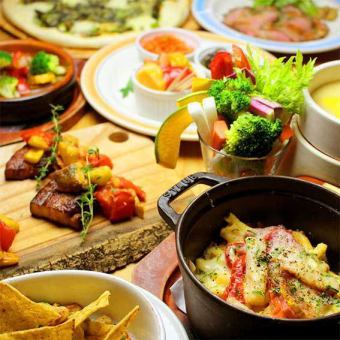 By using a coupon4500 yen
* Tax inclusive all-you-can-drink 90 minutes ♪ ※ The contents may change depending on the season.
All-you-can-drink available

All you can drink LO 90 minutes !!
Reservation deadline

Until 23 o'clock the day before the store visit date
Available days for reservation

Monday - Sunday - Public holidays - Holidays
It is the emergence of the optimum plan for banquets such as welcome reception party and forgotten annual party! In addition to colorful vegetable-packed dish lineup, main is grilled pork belly and pizza ♪ Of course, more than 20 kinds of fresh organic vegetables All you can eat! Enjoy with Banya Cowdera sauce.Volume full of popular course!
Course menu
◇ Bezieloka 0 831 Three kinds of tapas
◇ Plant salad bar & Bagna cowder sauce □ * ■ * □ * All you can eat organic vegetables □ * ■ * □
<Example> Red cray radish, celery, zucchini, okra, kale, golden grass, bean seed, purple cabbage,
Broccoli, Young Corn, Oka Hijiki, Paprika, Red Cirque, Red Crimp etc etc
◇ Specialty! Corn frit
◇ plenty of 831 Ahyejo ~ with bucket ~
◇ Coloring 0831 Struve Pot of Truffle Oil
◇ soft grilled pork belly and caponata
◇ Avocado and Mozzarella Mexican Pizza
◇ Chef's whimsical Dolce
All-you-can-drink menu
· Alcoholic beverages
· Draft beer · Glass wine white & red · sangria · shochu wheat · shochu potato · plum wine
·Cocktail
· Horn Angle · Angle High Ginger · Angle Hikola · Shandyaga · Gin Tonic · Jinbuck · Vacca Tonic · Moscommeur · Cassis Sodder · Cassis Orange · Cassis Oolong · Mango Yang Soda · Mango Yang Orange · Mango Yang Pineapple · Fuzzy Neeble · Peach Oolong · Litchi grapefruit
· Wine cocktail
· Operator · Karimocho · Kitty · Wine cooler
· Fruit vinegar sour
· Kiwi & Ringo Sour · Pine & Ginger Sour · Orange & Earl Gray Sour · Banana & Brown Sour Sour
·Soft drink
· Oolong tea · Orange juice · Grapefruit · Pineapple juice · Cola · Ginjaele
· Fruit vinegar drink
· Kiwi & Ringo Drink · Pine & Ginger Drink · Orange & Earl Gray Drink · Banana & Brown Sugar Drink (Water Split · Soda Discount)
Coupons that can be used with this course
2018/12/12 update