Course details
【Farmhouse Cheese Fondue Course】 All you can eat more than 20 kinds of organic vegetables!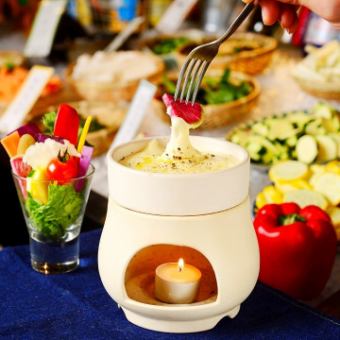 By using a coupon4000 yen
All you can drink 90 minutes ♪ * Tax included
All-you-can-drink available

All you can drink LO 90 minutes !!
Reservation deadline

Until 23 o'clock the day before the store visit date
Available days for reservation

Monday - Sunday - Public holidays - Holidays
Organic vegetables sent directly from farmers to Banya cauda sauce may be eaten! You can also eat it with a rich cheese fondue! A lot of vitamin supplement ♪ ※ The content may change depending on the season.
Course menu
● ※ ● ※ ● ※ ● ※ ● ※ ● ※ ● ※ ● ※ ● ※ ● ※
◇ Our salad prideful farm salad bar ~ Banya Cowder sauce boasting ~ □ * ■ * □ * All-you-can-eat organic vegetables * □ * ■ * □
<Example> Red cray radish, celery, zucchini, okra, kale, golden grass, bean seed, purple cabbage,
Broccoli, Young Corn, Oka Hijiki, Paprika, Red Cirque, Red Crimp etc etc
◇ Mentaiko Mascapone Dip and Tortilla Chips
◇ Bejiroka specialty! Plenty 0831 trufflein's stub pot
◇ Farm cheese fondue
◇ Tomato miso pasta
◇ Today's Dolce
● ※ ● ※ ● ※ ● ※ ● ※ ● ※ ● ※ ● ※ ● ※ ● ※
All-you-can-drink menu
· Alcoholic beverages
· Draft beer · Glass wine white & red · sangria · shochu wheat · shochu potato · plum wine
·Cocktail
· Horn Angle · Angle High Ginger · Angle Hikola · Shandyaga · Gin Tonic · Jinbuck · Vacca Tonic · Moscommeur · Cassis Sodder · Cassis Orange · Cassis Oolong · Mango Yang Soda · Mango Yang Orange · Mango Yang Pineapple · Fuzzy Neeble · Peach Oolong · Litchi grapefruit
· Wine cocktail
· Operator · Karimocho · Kitty · Wine cooler
· Fruit vinegar sour
· Kiwi & Ringo Sour · Pine & Ginger Sour · Orange & Earl Gray Sour · Banana & Brown Sour Sour
·Soft drink
· Oolong tea · Orange juice · Grapefruit · Pineapple juice · Cola · Ginjaele
· Fruit vinegar drink
· Kiwi & Ringo Drink · Pine & Ginger Drink · Orange & Earl Gray Drink · Banana & Brown Sugar Drink (Water Split · Soda Discount)
Coupons that can be used with this course
2018/12/12 update