Course details
"Lunch" roast beef on salad bar! Premium lunch course <all-you-can-drink all-you-can-eat> 2980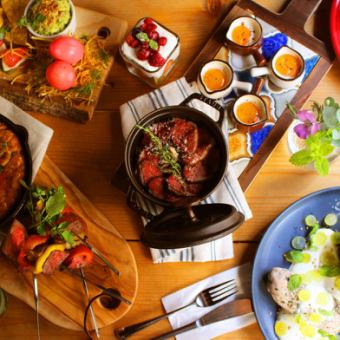 By using a coupon2980 yen
*tax included
All-you-can-drink available

Lunch course All you can drink 120 minutes LO 90 minutes !!
Reservation deadline

Until 23 o'clock the day before the store visit date
Available days for reservation

Saturdays, Sundays, and holidays
Lunch at the famous station is determined by Bajiroka ♪ Enjoy plenty of delicious vegetable dishes! Over 20 kinds of organic vegetables are all you can eat and you can enjoy the roast beef of Japanese domestic black beef in luxury!
Course menu
◇ Today's 0831 tapas
◇ Salad bar of farm and vegetable <Fondue source or Banya sauce> □ * ■ * □ * All you can eat organic vegetables * □ * ■ * □
<Example> Red cray radish, celery, zucchini, okra, kale, golden grass, bean seed, purple cabbage,
Broccoli, Young Corn, Oka Hijiki, Paprika, Red Cirque, Red Crimp etc etc
◇ Ahijo
◇ Shimomura beef's roast beef
◇ Chef's whimpest pasta
◇ Dessert
All-you-can-drink menu
· Alcoholic beverages
· Draft beer (premium malt) · glass wine white & red · sanguria · shochu wheat · shochu potato
·Cocktail
· Horn Angle · Angle High Ginger · Angle Hicolor · Cassis Orange · Cassis Soda · Cassis Grapefruit · Fuzzy Neeble · Peach Oolong · Lychee Sauder · Lychee Grapefruit · Lychee Orange · Mango Yang Orange · Mango Yang Soda · Mango Yang Pineapple
·Soft drink
· Oolong tea · Orange juice · Grapefruit · Pineapple juice · Cola · Ginjaele
Coupons that can be used with this course
2019/01/14 update